Your smile is one of the first things that people notice which means that taking good care of your teeth is very important.
Porcelain veneers can help to recreate your natural smile, providing additional strength to your tooth enamel. Having applied porcelain veneers is not a cheap procedure. However, the initial investment is spread out over 15-20 years (the average life span of porcelain veneers) and it is even less than you spend daily buying a cup of coffee or tea.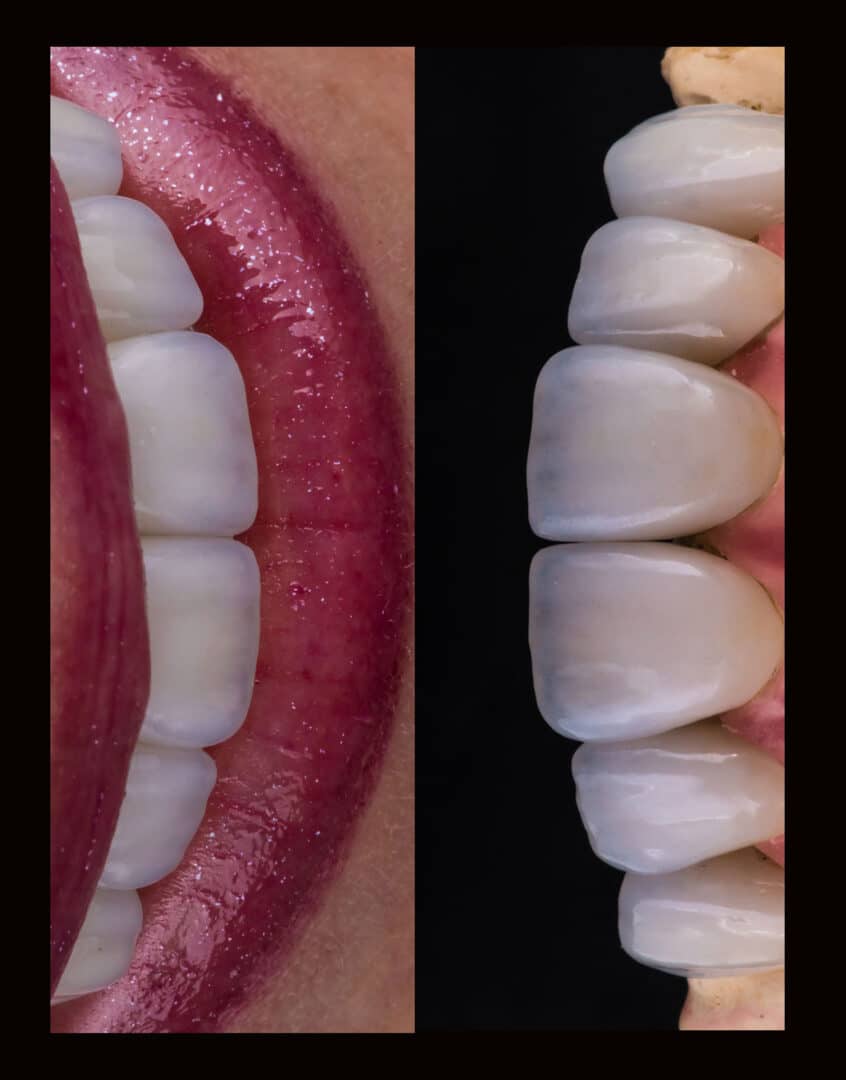 When Do I Need Porcelain Veneers?
Porcelain veneer is a custom-made thin wafer of porcelain bonded to the front surface of your teeth, similar to the procedure of false fingernail fitting over a nail. Porcelain veneers can solve a number of dental problems improving the shape, color and position of your teeth.
You need a porcelain veneer, if you have:
A cracked or chipped tooth
Discolored or stained teeth (as a result of root canal treatment, composite fillings or dental fluorosis, wine, coffee-drinking and other factors)
Gaps between teeth, when braces are not an option
Teeth that have uneven proportions, irregular teeth
Worn teeth (often from the habit of grinding or clenching)
A gummy smile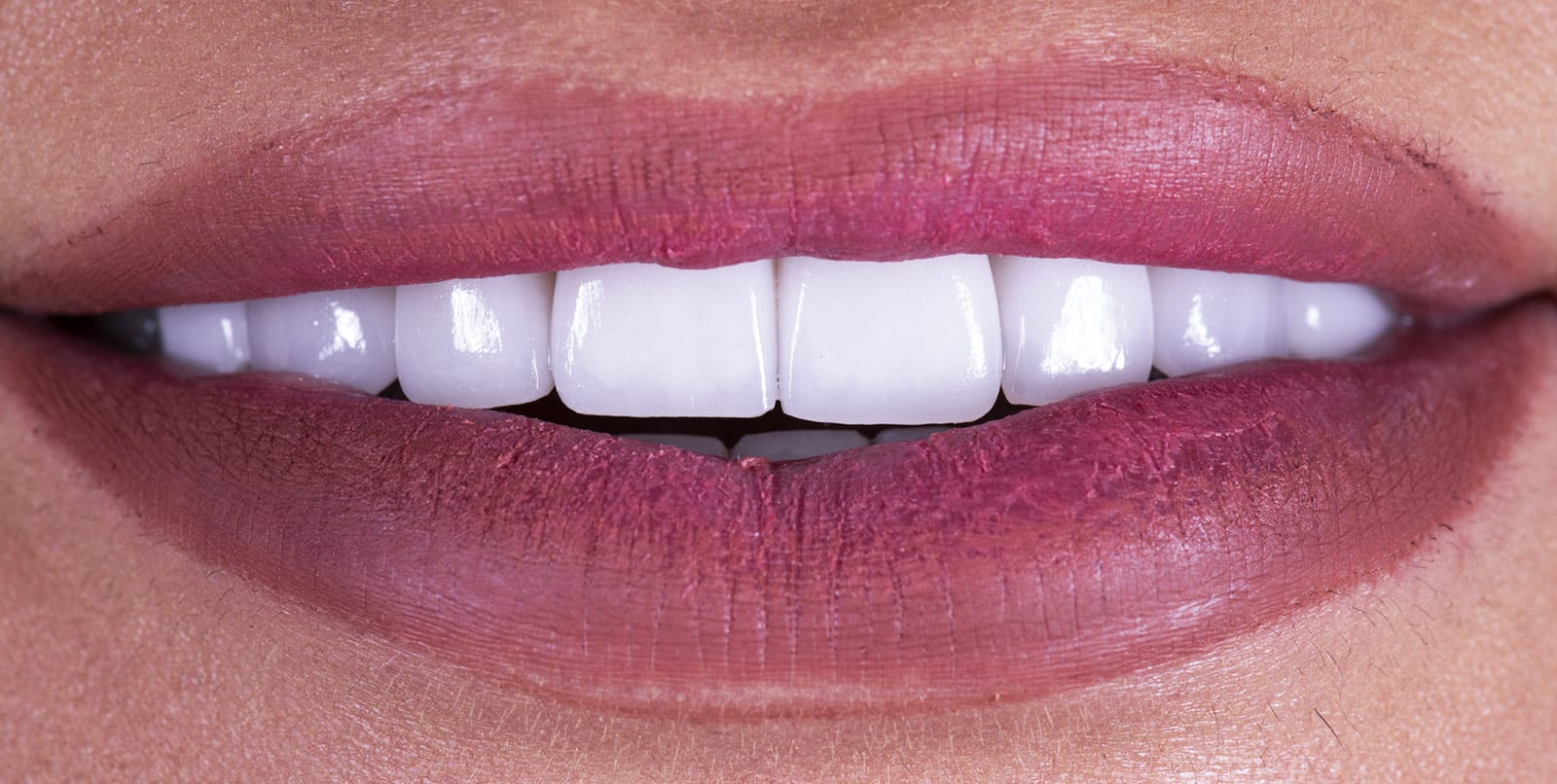 Why Porcelain?
The popularity of porcelain is not in vain. There is no other material than porcelain that can perfectly recreate the tooth texture, color and form. Because of its semi-transparent nature, porcelain gives the right shade and color to the teeth either you need to improve a discolored molar tooth or to lighten your front teeth. Moreover, porcelain doesn't conduct heat and cold and is a good solution for the patients suffering from teeth sensitivity.
What Are the Benefits of Porcelain Veneers?
With porcelain veneers you will have a confident and shining smile you have ever dreamt about.
Designed to Look Natural
Applying porcelain veneers can help fix a wide variety of dental problems, so that no one could guess that you have veneers. Since porcelain veneers are custom-made, their size and color can be altered as needed. Moreover, porcelain helps match the color of surrounding teeth to make the veneer looks entirely natural.
Maximum Life Span
In spite of being delicate, porcelain veneers are hard, strong and highly resistant to chemical reactions. Porcelain veneers are very durable and can last up to 20 years without changing their color, if cared properly.
No Time-consuming Procedure
Applying porcelain veneers will take you only two or three visits. It is a good alternative for those who need to correct several aesthetic issues at once.
No Worries about Staining
With porcelain veneers you don't have to worry about stains from wine, coffee or other colored concentrate products. High quality porcelain veneers have a strong stain-resistant nature. However, it is important to keep a proper care of your pristine smile.
Checking if You Are Veneer-Compatible
Unfortunately, not everyone is compatible for having veneers; everything depends on your general oral health. Before fixing veneers, the emergency dentist will check if you are not suffering from any orthodontic diseases and your gums and teeth are healthy enough. You are a perfect candidate for applying veneers if:
Your teeth are healthy
You don't have any gum diseases
You don't have a habit of grinding or clenching your teeth (your grinding to be evaluated on individual case for veneers with a use of night guard.)
You know precisely what you want to achieve and have realistic expectations
P.S. The best way to understand if you are a suitable candidate for veneers is to discuss it with our dentists in person.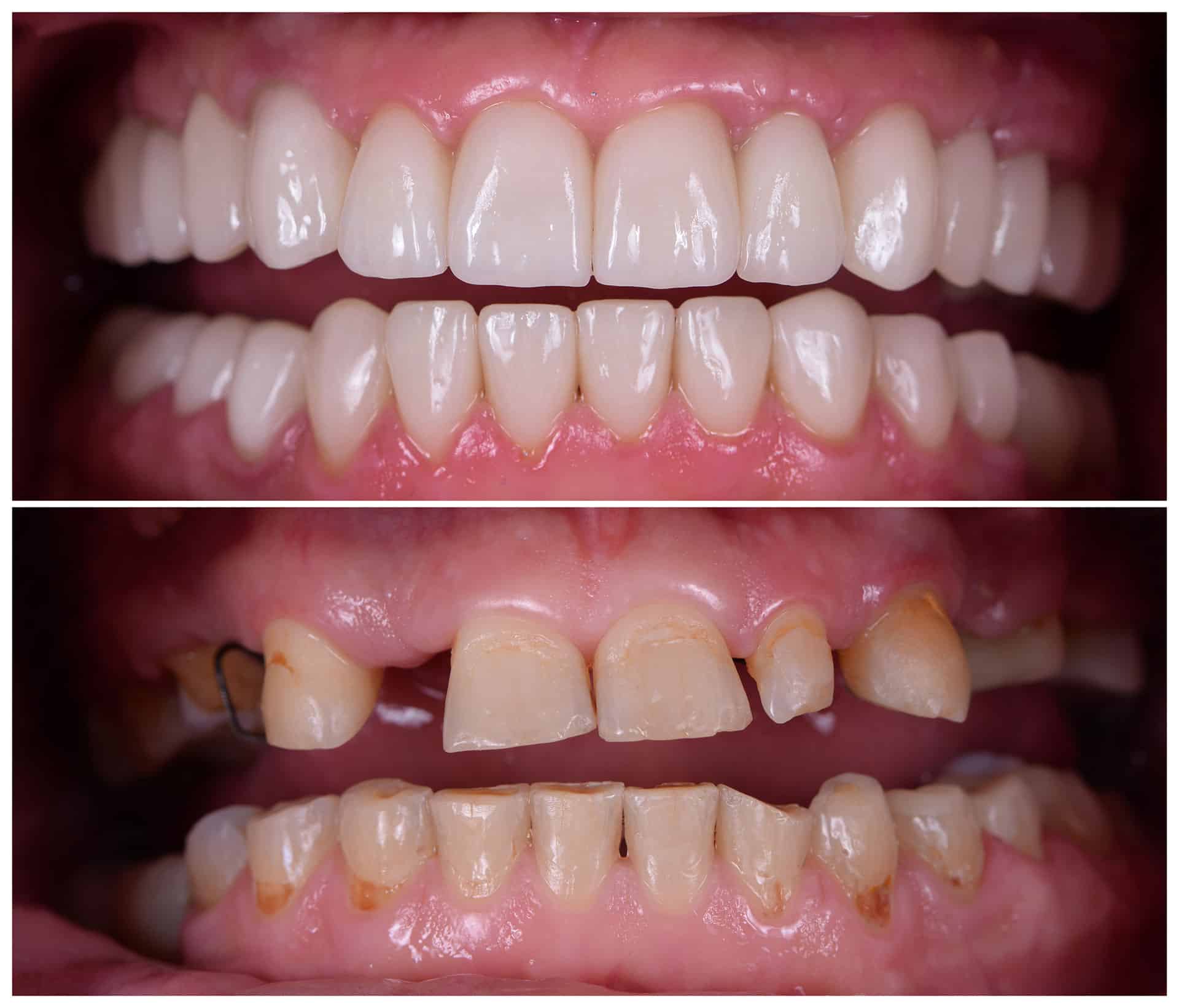 Procedure of Getting Porcelain Veneers: Step by Step
Applying porcelain veneers is a custom process which starts with personal consultations. Usually, it takes around 2-3 visits to have veneers bonded to your teeth. Here are the main steps on the way to your "Hollywood smile"
Step 1.
Examination
On your first visit, the dentist will examine your teeth, gums and mouth to understand if you are a suitable candidate for porcelain veneers. Try to explain in details the results you want to achieve, discuss all your doubts. Options of bleaching your natural teeth that would not be veneered, to achieve the best and lightest shade for your veneers would be discussed. The dentist will make an individual treatment plan to ensure best results. You are just a few appointments away from desired smile.
Step 2.
Preparation
If porcelain veneers appear the best option for you, a computer diagnostics with multiple pictures of your smile will be made to create a custom mock-up wax smile. Prior to veneer placement, your teeth surface need a special preparation and minimal reshaping. The procedure can be performed without anesthetic, but you may find that it is necessary. In addition we provide advanced sedation therapy aka sleep dentistry. Then, the desired model of your teeth will be replicated on a temporary which you will have on for about a period of two weeks until the lab fabricates your custom veneers. At this stage, the dentist will determine the color of porcelain that best matches your natural teeth. Once your dentist has decided with you the final shape and shade the veneers. Your custom lab prescription will be discussed with the dental laboratory to design your porcelain veneers. The following visit would be for final delivery of the veneers. Patient's examination and preparation can be made in one visit.
Step 3.
Bonding
When your porcelain veneers are ready, it is time to come to the dentist's office. First will be removing your temporary veneers. Your teeth will be isolated cleaned with antiseptic and polished with a special gel to ensure the proper bonding. Will be evaluating the shade and shape of the veneers with you to make sure you are satisfied. If you have approved will proceed with the bonding phase. A serious of conditioning phase of veneers will take place and after final bonding material will be placed in the veneers. Initial adjustments will be made and removal excess of bonding material and full polish.
Step 4. Follow-up Visit
The third visit to the dental office is evaluation. During the visit, the dentist will check if veneers adjusted properly. If you feel hot/cold sensitivity or other type of discomfort after the procedure, let your Simi Valley dentist know about that. At this appointment all necessary adjustments would be completed.
Caring of Your Porcelain Veneers
As with anything concerning our health, everyday maintenance is a key with porcelain veneers. After you have applied porcelain veneers, no special care is needed. You can brush and floss your teeth as you did previously. Using any non-fluoride and non-whitening toothpaste is acceptable. If you would like teeth whitening, please consult your dentist. Also, avoid biting hard food to prevent cracks. Keeping a good home care of your teeth will prevent you of further dental problems as well as ensure the esthetic look of your porcelain veneers for many years to come.