Blog
All-on-Four Dental Implants Guide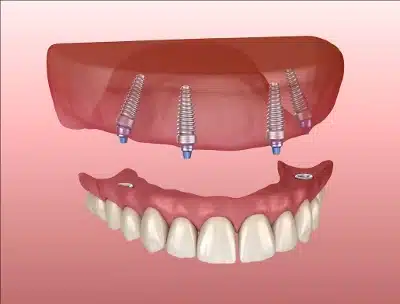 If you are considering all-on-four dental implants, you probably have plenty of questions. Whether you have already met with a dentist and need more information, or you are still in the exploratory phase, this guide will provide you with enough knowledge to determine if all-on-4 implants could be a solution for you.
Keep in mind that this is general information, and every person has unique issues and concerns that should be considered. Take your questions or concerns to your Simi Valley dentist or medical provider for information specific to your needs.
What Are All-on-4 Dental Implants?
All-on-4 dental implants are dental devices that replace an entire arch, or full set of teeth, using just four titanium implants, thus the name all-on-4. All the teeth are held by four implants, or screws, that are surgically inserted into the jawbone forming a sturdy base to support a full arch dental prosthesis. All-on-4 implants preserve and stimulate natural bone growth, keeping the jaw strong and the implants stable, and they're available to more types of patients than traditional implants are. All-on-4 implants are permanent and fixed, and can be used on the upper teeth, lower teeth, or both sets.
What is the Average Cost of All-on-4 Dental Implants?
Your total cost for your all-on-four dental implants will be determined by a variety of factors, including geographic region, material used (e.g. acrylic, porcelain, etc.), associated costs of procedures such as extractions or bone grafts or sinus lifts (although these are more common with traditional implants), and insurance coverage. For a full arch, expect to pay anywhere between $15,000 and $30,000. Request an itemized list of all expenses before agreeing to a procedure. Ask your dentist about available financing options and payment plans.
How Do You Clean All-on-4 Dental Implants?
After enough recovery time has passed, and your mouth has healed from the implant surgery (usually within six months) you should follow the same routine care, checkups and cleanings with your new teeth as you would for natural teeth. When cleaning, you want to make sure to remove any food particles and bacteria. This includes using floss, brushing, and visiting your dentist on a regular basis according to the dentists' recommendations. You may want to use an electric toothbrush and/or a WaterPik toothbrush that uses high pressure water spray to remove food from between the teeth. Check with your dentist before using any dental rinses.
How Long Do All-on-4 Dental Implants Last?
All-on-4 implants are very durable, and due to the material from which they are crafted, neither the implants nor the prosthesis (teeth) can decay. However, by maintaining good oral health, keeping gum tissue healthy, avoiding smoking, and participating in proper care and regular dental check-ups, the implants can last a lifetime.
Are All-on-4 Dental Implants Painful?
Everyone's experience of pain is different; however, the majority of implant patients report the dental implant procedure is well-tolerated. Patients will experience pain, swelling, and bleeding on the day of surgery and some days after, however, this may be managed with over-the-counter pain relievers. Ice packs placed on the cheeks can minimize swelling. Typically, within five days the tenderness, bruising, and discomfort will begin to subside, and after two weeks patients should no longer feel pain. Healing will continue for up to six months. Your experience may vary depending on your procedure and health issues, but your dentist will let you know what to expect as you heal.
Why Would You Need All-on-4 Dental Implants?
Anyone who is missing teeth, whether it is multiple teeth or all their teeth, may consider all-on-4 dental implants. Whether your tooth loss is from natural aging, periodontal disease, or traumatic injury, an all-on-4 dental implant can restore your facial structure, improve your speech and diet, and ultimately, restore your confidence. People who have damaged teeth or severe tooth decay may decide to have them extracted and replaced with a high-quality implant. In addition, patients who have had traditional dentures often upgrade to all-on-four implants to get away from the embarrassment of the removable dentures slipping and moving around when they speak or eat.
What Do All-on-4 Dental Implants Look like?
All-on-4 dental implants look very much like regular teeth. View the images and video on this page from Elite Dentistry of Simi Valley to get a visual of all-on-4 implants. Check out our patient gallery of Before and After pictures for actual results.
Does Insurance Cover All-on-4 Dental Implants?
Insurance policies vary widely between companies, locations, and patients. For example, a patient in Simi Valley, CA may have different insurance coverage than someone in other areas of California. Determining what is covered may require multiple conversations with your insurance provider and with your dentist. If the tooth loss is due to an injury, or treatment is deemed medically necessary, it is likely that your medical insurance, as opposed to dental insurance, will offer coverage. For dental insurance, coverage can depend on the yearly limit; waiting period; coverage cap or maximum coverage; and, reason for procedure. Many policies may deem the implants as cosmetic and cover only a limited amount. Check Investopedia for information on the best dental implant insurance coverage.
Are All-on-4 Dental Implants Removable?
No, all-on-4 dental implants are permanently affixed to your mouth. It is this permanent solution that provides stability and comfort.
What Problems Are Associated with All-on-4 Dental Implants?
Research indicates that implants have a very high success rate of 95 percent and higher. With proper communication, an experienced dental team, a good treatment plan, and good care and oral hygiene by the patient, most issues can be avoided. However, some patients may experience problems. Problems may include improper implant placement leading to pain or slippage; broken devices from poor construction; broken or damaged teeth adjacent to the implants; or, infection. Patients should keep all appointments and follow-up care to avoid problems and to have the dentists catch any issues before they become a problem. Ask about your dentist's emergency care procedures in the case of complications from oral surgery.
Not all people are good candidates for all-on-4 implants either. Sometimes, potential patients with significant bone loss may not have enough bone density for osseointegration, so all-on-4s may not properly embed. Your dentist can help you know whether or not you are a good candidate.
Simi Valley Dental Care You Can Trust
At Elite Dentistry, our outstanding Simi Valley dentists provide a wide range of modern dental services using cutting edge technology. We provide comprehensive care in a comfortable and relaxing environment. Schedule a complimentary consultation with one of our highly trained dental professionals to find out if you are a candidate for an all-on-4 dental implant. Get a smile makeover today! Schedule your appointment online or call our Simi Valley dental office today at (805) 526-1000. We are a full service advanced dental center with a team of dentists and specialists all in one location for convenient patient care. Serving patients in Moorpark, Porter Ranch and Thousand Oaks.