A healthy smile is evidence of a healthy body. If you are missing teeth, it is never too late to do something about it. Replacing missing teeth is very important for chewing and speaking.
Also, missing teeth may cause other teeth to be lost, shifted or crowded. This can be unpleasant and embarrassing. Tooth implants are the best existing replacement option for missing teeth or if you need an emergency tooth extraction. Our Simi Valley dentists have many years of experience in performing this procedure and has helped several patients achieve their perfect smile.
What is a Dental Implant?
A dental implant is a small post made of titanium that replaces the root part of a missing tooth and is integrated into your jaw bone. In addition to being a replacement, tooth implants can provide strong support for the fixed or removable dentures. Dental implant treatment is a great choice for achieving a beautiful smile and most healthy patients are good candidates for implants.
Am I a Candidate for Implants?
In general, all patients that are healthy enough to undergo a tooth extraction or ordinary oral surgery can be considered as a candidate for dental implants. Dental implants are a perfect choice for all patients who have one or more missing teeth because of disease, decay or injury. They are especially practical for those who no longer wear removable dentures and want to have a natural looking smile. Gum diseases, smoking habits, and the overall health problems can be among the possible interceptions, but not contra indications. If you don't have enough bone to support an implant, there are a few effective ways to correct this with the help of special bone material. We offer cutting edge in technologies for bone grafting procedures. However, it would be best to be evaluated by an implant specialist to say if you are a good candidate for implants after a careful examination of your mouth and medical history.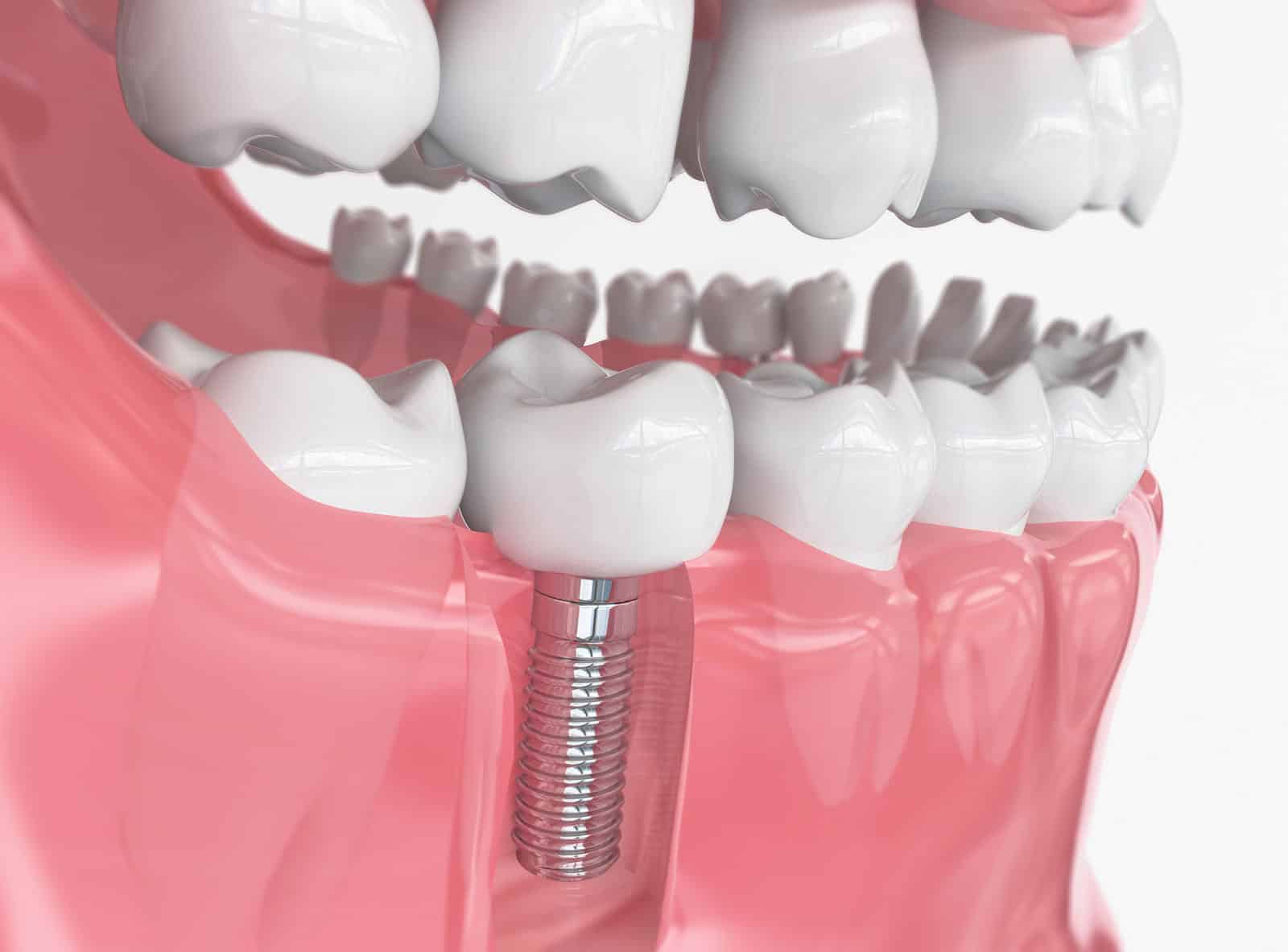 What Are the Benefits of Dental Implants?
There are many reasons why people decide to get dental implants. These reasons range from cosmetic to very practical. Implant restoration will help you obtain:
Natural Smile
Dental implants will restore your smile. Implants look like your natural teeth. They are integrated permanently into your bone so that nobody will guess that you have artificial teeth.
Comfort
With dental implants, you can enjoy life without worrying about your teeth. No more need to feel uncomfortable in public and worry about your removable dentures and imperfect smile. Implants will let you lead your productive life as well as regain your self-esteem.
Improved Speech
When you have removable or badly-fixed dentures, your teeth can slip making you to slur or mumble the words. With dental implants, you can speak without worrying that your teeth can slip.
Stabilization of Adjacent Teeth
With one or more teeth missing, it is always a risk of having the adjacent teeth shift toward the empty gap. This can provoke a misaligned bite, causing chewing problems, decay, pain in a jaw, etc. Placing an implant helps neighboring teeth stay in place.
Improved Appearance
When teeth are missing, there is nothing left to stimulate bone growth. Our body feels that the jawbone is no longer necessary, and the deterioration of the jawbone results in facial collapse. These changes make a person look older. Implants prevent you from the deterioration of the facial structure. Even if you already have wrinkles caused by bone collapse, they will virtually vanish.

Types of Dental Implants Available
We provide our patients with endosteal implants which are integrated into the jawbone. Each implant can support one or more teeth. In our dental office we can offer you:
Single Tooth Implant
It is usually recommended for those patients who have one or more damaged or missing teeth. After the implant integrates into your bone, it serves as a new root for the crown. A special connecting element – abutment – is used to join an implant to a customized crown. A crown will fill in the gap left in the mouth by the missing tooth. All-on-4 dental implants are also an option.
Multi-teeth Replacement
Multi-teeth replacement is offered when a patient needs 2 or more dental implants connected like a bridge. The same as with a single tooth replacement, abutments are placed on implants to support a bridge. Traditional dentures can't offer the same stability and strength.
Overdentures
Overdentures are usually prescribed to the patients with multiple or all teeth missing that have complete or partial dentures. A typical denture lies on the gums and is not supported by implants. An implant-supported denture has special wings that snap onto the wings of the implants or permanently screwed on to the implants. Implants help keep dentures in place and allow you living your daily life to the fullest.
Frequently Asked Questions
Both dentures and implants offer patients a beautiful, long-lasting smile. However, more recently, implants are preferred. Implants are better for preserving bone, promoting stability, and decreasing irritability. If you are unsure whether you would like implants or dentures, please contact our Simi Valley dentist to determine what is best for you. Many factors come into play when deciding between dentures or implants, including time, health, and cost.
Like with any surgery, there are some risks with dental implants. Very few patients experience dental implant problems like sinus problems, tooth damage, and infections. Our dentists will determine if you are a good candidate. Most patients are good candidates, which is why dental implants have very high success.
Most people experience little to no discomfort during and after the dental implant procedure. Local anesthesia is often used to minimize discomfort. Many patients report that the procedure is less painful than a tooth extraction. After the procedure, you can treat soreness with Tylenol or Motrin.
Success rates of implants may vary depending on where the implants are placed, but, in general, implants have a success rate above 95%. With careful oral hygiene, dental tooth implants can last a lifetime. It's important to keep your regular check-ups to ensure your tooth implants will last as long as possible.
The Procedure of Getting Dental Implants: Step by Step
Step 1.
Examination
At the pre-surgery stage, the dentist will do digital x-ray examination or 3D-CT scanning to determine your bone level and density, bite and also evaluate any hidden problem. Then, an individual custom treatment plan will be developed. The plan will address your specific need and preferences, at that time will go over all options.
Step 2.
Getting Implants Placed
One of the most important parts of the procedure is site preparation: a small channel is prepared in the bone in order to place a titanium screw that will hold an implant in place. Only then, an implant is placed into the bone. Once in place, a protective cover screw is put on the top allowing the site to heal and the implant get fused. The healing process can take up to 6 months.
Step 3.
Follow-up Visit
After the healing process is completed, the dentist will attach an abutment to the implant and a crown. First, a temporary crown is made. Then, a procedure is completed by placing a permanent crown. Having your crowns applied on implants may take a few weeks, depending on your individual case and treatment plan.
After Dental Implant Surgery
Because of the nature of the surgery, you will have to wait sometime until the tissue heals. The good news is that discomfort is minimal and healing is usually successful. In the first 2-3 days after the surgery, you may feel some swelling: dentist will advise you some pain medications to relieve the discomfort of the first days. Try to eat soft foods for a few days after surgery. If you are a smoker, it is necessary to stop smoking until the healing process is completed. To ensure the implant integration, keep proper hygiene and visit your Simi Valley dentist regularly to monitor the healing process.
Caring of Your Dental Implants
Caring the implant-supported dentures is the same as caring for your natural teeth. Keep proper oral hygiene – brush and floss your teeth regularly, and visit your dentist in Simi Valley for check-ups and professional cleanings. If you have any questions about the dental implant process or would like a complimentary consultation, please give us a call.
See some of our work by viewing our Instagram! We love sharing our patient's great smiles.